About the Presenter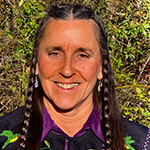 Shianne Eagleheart is a License Independent Counselor and Internationally Certified Clinical Supervisor., Native American Ceremonial Leader, Professional Trainer, Ordained Minister, and the Executive Director and Founder of The Red Bird Center, Inc. The Red Bird Center is a non-profit, Multicultural Healing Center located in Southeastern Ohio. The Center provides opportunities for healing, education, and community celebration. The Red Bird Center is also active in Restorative Justice, promoting a healing model to effectively respond to crime in America and support the development of safer communities.
Shianne has extensive clinical experience in the treatment of adult and adolescent abuse survivors as it relates to chemical dependency, PTSD, dissociative disorders, re-victimization and violent offending. She is a multiple trauma survivor who has achieved both personal and professional success in healing from the effects of trauma, breaking a family cycle of violence and contributing to a greater community healing. She has been working in the healing professions for the last 35 years and is active throughout the country and abroad as a keynote presenter and retreat provider. Shianne wrote "The Wounded Bear" in response to the violence and heartbreak she has witness first hand in her community. She shares this Medicine Story with the intent to promote healing. The Wounded Bear speaks directly to issues related to violence prevention, trauma recovery, and healing of the human spirit. This program is being presented in schools, universities, Veteran's organizations, multicultural events, woman's programs, Native American / Aboriginal professional training conferences, mental health programs, hospitals, churches, international professional training conferences, social service agencies, correctional programs for both youth and adults.
Shianne is Haudenosaunee-Seneca. Her work and the Center's programs combine Ancestral Wisdom and Earth Medicine with a sound clinical foundation based on 35 years of experience in what truly heals the human spirit. Her vision for the future is to continue to support the development of the Healing Circle and Community Healing Centers throughout the United States and abroad, with a return to honoring Indigenous Earth Ways that bless all Nations.